Meetings, Newsletters, Open Days
History Nights
The focus of our History Nights is HISTORY (although we always start with any announcements and news that are important in keeping our members up to date with the Society's activities).
On each of these nights there is an historical topic and there is either a guest speaker, a discussion with a specific topic or the showing of a DVD on an Australian historical topic, followed by questions and discussion. We always conclude with a delicious supper.
History Nights are held in March, June and November, on the third Monday of the month. The Society takes a two-month Winter break in July-August, and a Summer break in January.
The Annual General Meeting is held on the third Monday in September.
Committee Meetings
The business of the Society is handled by the Committee, which meets about once every 6-8 weeks. Any matters of general concern to the membership are reported on at History Nights and via our newsletter, Society Notes.
Open Days
Open Days are held on the second Sunday of the month, except for the months of January, July and August. On these days, the Letty Armstrong Resource Centre is open to the public from 2-5pm, with members attending on a roster basis to answer queries relating to family or Linton history.
Members and non-members are welcome to come and look at our collection, and make copies of documents and photographs if they wish for a nominal fee.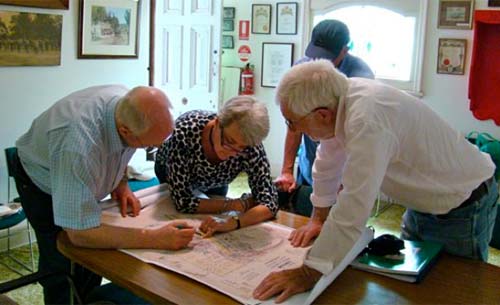 Research assistance is given by members on Open Days.
Society Notes Newsletter
Society Notes is our newsletter posted quarterly to members in February, May, August and November. It includes historical news items, often including articles reproduced from old copies of the newspaper, The Grenville Standard, which was published weekly in Linton from 1895 to 1941.
There are also regular reports on Society business, summaries of talks by guest speakers at meetings, notices about upcoming events, and lots of photographs, both historic and contemporary.
Work Days
From time to time members get together to carry on with the everyday business of the Society, for example, the sorting, cataloguing and storing of items that have been donated to us. Such tasks are time-intensive, but fundamental to the existence of our organisation. Work days can also be days of sharing and camaraderie!